Our 3D Fiber Laser Machine has enabled us to engrave all kinds of parts from Plastic to Metal.
Advantages over a pen on different materials haven proven Laser Marking to be safe and reliable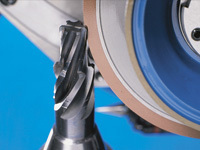 Reconditioning of tools that may be worn out but the overall condition of tools is still good.
We can help to Regrind and Recoat those tools so that they can be reused again at a small cost.
With repeated reconditioning, tooling costs can be reduced by 50% or more in many cases, compared to the cost of purchasing new tools. You save money, and avoid material waste.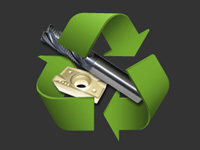 We accept coated and non-coated carbide tooling, including carbide inserts, drills, end mills, reamers, and taps, regardless of brand.
The cost saving is not the only benefit. The recycled carbide is returned to the metal-cutting industry, which reduces the need to mine and process virgin raw materials.
Holders that are not a Standard in any Catalog?
We can help you to customize a holder suited to your needs.
From threading to turning, we have four milling centres that are capable of machining almost any special holders or Boring bars.